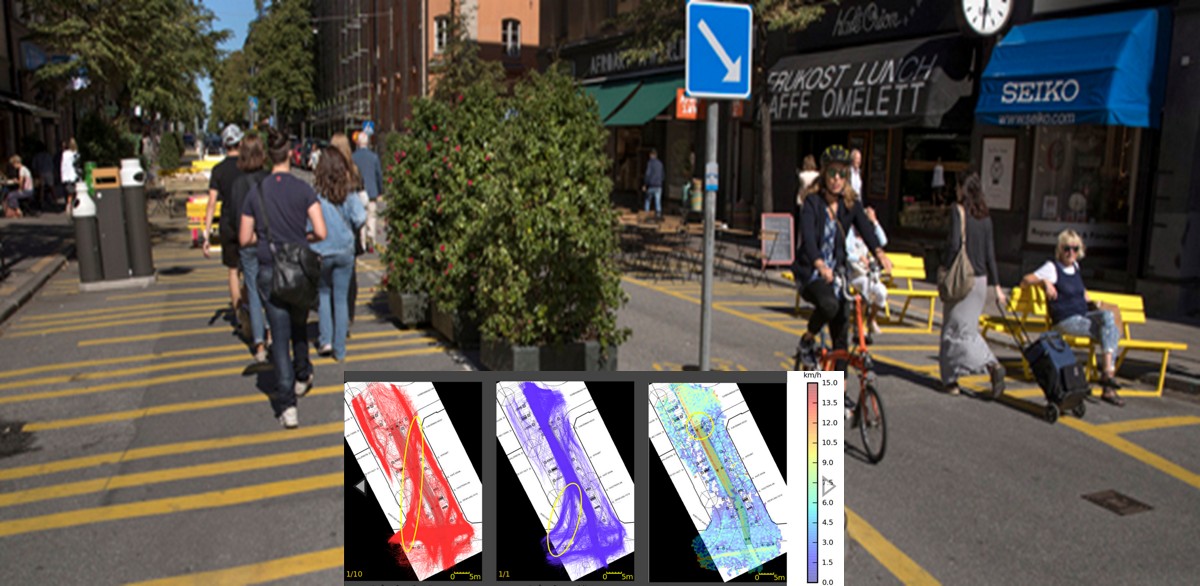 The City of Stockholm has a project called "Levande Stockholm" (Liveable Stockholm). The aim is to make the city more enjoyable and friendly for walking. This is done by expanding the space for pedestrians and making the space more pleasant and accessible.
Analysis
All movement patterns through the area have been mapped using Viscando's unique solution, based on 3D and Artificial Intelligence (AI). This gives a visual and comprehensive picture of the traffic, movement, flows and speeds. The images show parts of the results.
The majority of cyclists and pedestrians tend to be on the correct designated surface.
The yellow ellipses, however, show a relatively strong tendency for both pedestrians and cyclists to take shortcuts.
Analysis and visualization of cyclists' speeds show that they clearly lower their speed as they approach the intersection with Surbrunnsgatan.
City of Stockholm conclusions
The Traffic Administration Office has recently received the results of Viscando's measurements and analyses. This gives the planning office far better opportunities to improve and optimize the design before it is made permanent. Conclusions from the Traffic Administration Office and Theodor Bratt are:
We can clearly see that the tendency to take a shortcut through the area is more pronounced than we had anticipated. We will take this into account in the final design. We will also reconsider the design and location of the cycle path.
The interaction of cyclists with other road users still seems to work relatively well and, in general, they keep a low speed through the area.
After having seen the results from Viscando, we came to the conclusion that we will make changes such as minimizing the number of plants and other items in the area to allow better throughput and sight.
Important areas that the public road authorities and City of Stockholm wanted to investigate
How do pedestrians and cyclists move through the remodelled location?
How well does having the cycle path in the middle of the street work?
What happens when cyclists reach the intersection between Norrtullsgatan and Surbrunnsgatan?
How does interaction with vehicles work at the intersection?
Quote
"Both citizens of Stockholm and visitors appreciate this. We are constantly looking for new places that we can develop and improve to make Stockholm more liveable." Daniel Helldén, City Councillor for Transport.